We're with you every step of the way.
We pride ourselves on carrying a balanced offering of quality flooring at the fairest possible price all the way from nylon carpeting to premium hardwood. You can also count on us to be knowledgeable about what flooring will best adapt to what room.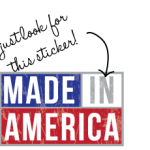 If it matters to you, it matters to us.
With the increasing importance of manufacturing jobs in the U.S., we are making it easier for you to find products in our Charlottesville showroom that have been Made in America.