American Clay Wall Plaster
Re-cover your world with American Clay's beautiful, eco-friendly wall plaster.
Made from earthen clay harvested in New Mexico, American Clay is a beautiful and durable alternative to traditional wall coverings. It offers a number of benefits, including resistance to fading and mold, moisture control and improved sound quality. Its anti-microbial and anti-static qualities make it resistant to dirt and grime, which means it doesn't need to be repainted for the entire life of the walls. American Clay is offered in a wide variety of colors and provides superior richness, texture and depth not found with other finishes.
We are proud to be Virginia's only dealer of American Clay. Visit our showroom to see and feel American Clay's beautiful colors and textures.
Read more about why we love American Clay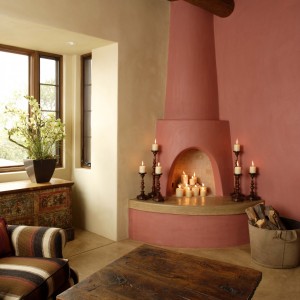 Wood Wall Panels
Want to make a big statement in your home? Add some wood to the walls! Wooden wall panels are a simple, stylish way to add some serious personality to a room.
We are now carrying Pre-Fab Wood Wall Panels from Sustainable Lumber Co., made from reclaimed pallet boards, barn wood and recycled flooring.
Johnson Hardwood's Rowlock Plus wood wall panels are constructed from all natural wood materials. Each undressed wood piece is hand sanded and hand stained to preserve the native design and characteristics of the wood species.