The Best Around
It says something that our staff members have been with us for many years, some over two decades. Our experienced estimators can help you with the most useful and practical aspects of choosing a floorcovering. All are welcoming and friendly…and qualified. At Carpet Plus in Charlottesville, you can feel free to just come in and ask all the design and flooring questions you like. We look forward to it.
The Team
Duane Cassis, Owner
30 years ago, Duane started Carpet Plus in a storage unit in Charlottesville, Virginia. After several locations and many changes to the business, Duane is still going strong with no sign of slowing down—or taking a vacation. His drive for perfection keeps us all on our toes. Without much time for a hobby, Duane does have quite a collection of old gas station signs and other 50's memorabilia which you can see on display in the Carpet Plus showroom.
Cindy Adams, Vice President
Cindy joined the Carpet Plus team 19 years ago after many years of working in the property management industry. She keeps our Carpet Plus office running smoothly but can also be found working with customers in the showroom, using her design savvy to help them choose the perfect color and/or pattern for their flooring project. An avid animal lover, she has furnished our showroom with our office kitties, Whisper and Walker, and our doggy mascot, Gucci.
Ed Mallan, Sales Manager
Ed has been with Carpet Plus for 12 years now, but has been in the flooring business since 1982. He began working in the industry as an installer's helper and then moved to the sales floor. Thanks to Ed's expertise and knowledge of all floorcovering products, our customers can be sure they are getting the perfect floorcovering for whatever their needs may be. When Ed is not working at Carpet Plus, he can most certainly be found working on his family farm in White Hall.

Mike Bruscia, Sales Associate
Mike has been at Carpet Plus for a little over one year but brings over forty (!) years of experience in the flooring industry, where he has done everything from installing to estimating to sales. You can usually find Mike on the sales floor, sharing his infinite knowledge with customers and ensuring they find the right flooring for their home. Mike recently moved here from Asheville, NC to be closer to his family. He enjoys taking advantage of all the outdoor hiking and fishing spots that the area has to offer!

Shawn May, Sales Associate
Shawn is the newest member of the Carpet Plus team and has been working in the flooring industry for the last five years. Upon graduating from high school, Shawn served six years in the Navy before earning a business degree from the University of Virginia in 2015. When he's not helping customers on the sales floor at Carpet Plus, Shawn can be found lending a hand at his cousin's construction company.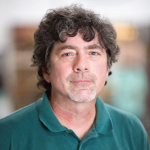 Tim Walts, CFE (Certified Flooring Executive), Operations Manager
Tim has been with Carpet Plus for 20 years and is officially our Floorcovering Guru. Tim began working with Carpet Plus as an installer and he holds multiple certifications through the Certified Flooring Installer organization. His knowledge allows us to properly install your flooring for longevity and to secure your warranties. A real nature lover, Tim's spare time is usually spent in the garden or fishing on the James River.
Read Tim's TIPS FROM TIM blog column

Liz Eure, Director of Marketing
Liz is credited with managing the Carpet Plus brand for eight years now. She's the reason you see our name everywhere! Liz is a Boston native and graduate of the University of Virginia. Her previous experience includes work in the oil & gas industry as well as at a local advertising agency. When she's not at work, Liz keeps super busy at home with her two young kids.